The aim of the project "Hope for a Home" is to build a home and a school in Sierra Leone for the ebola orphans, to provide them with education and a safe and loving environment. Would you like to be a part of it?
¡¡¡ WE ACHIEVED THE FIRST 10,000€ !!!
Thanks to your support and your donations, the campaign has been successful and we have got enough money to build the first module.
Thanks to you all, a lot of children will soon have a home to live... Do we include more children??? Continue donating, we still have a few more days left...

See more...
Founders
Susan Cole
Abdul Karim
Nacho Otero
Description
The recent ebola epidemic in Sierra Leone devastated whole families and communities, leaving over 12,000 children orphaned.
Although the crises is now over however, the major challenges faced by the ebola orphans are real. These vulnerable children face – stigma from their community, trauma from losing their family, malnutrition, lack of access to education, sexual abuse, security and access to secure housing.
There is a great need for this orphanage and school, we can help to give these orphan children a chance to grow up in safe and stable home and the opportunity of an education.
Amigos de Sierra Leona is a registered charity organization founded and registered in Spain in 2010, having the common goal to provide assistance to contribute to improving the living conditions of the people of Sierra Leone.
We work to promote education, health and food security, scholarships and school feeding. Over the past years we have done so through child sponsorships, feeding programmes and most recently sending containers full of aid to help the ebola infected and orphans in Sierra Leone.
With the project "Hope for a Home" we want to build a home and a school
The orphanage will provide a much needed shelter, food, safe and loving environment for these kids. The school will serve both ebola orphans and the local community, and will also provide jobs for some of its members.
Our goals are as follows:
Build an orphanage to house aprox 125

of the orphans in need of bedding and those belonging to the acute risk group
Build a school to provide quality primary education for 280 children (Ebola orphans and community children)

Generate all the capabilities to manage both the orphanage and school in the best way possible so that the infrastructure would be beneficial to both the orphans and the community.

The Project will be implemented in Ma-Tindi Village, in the Waterloo area, Western Rural District, east of Freetown. This is one of the two hardest hit areas by the ebola virus, a poor rural area, which will also benefit from the construction of school because there are no schools in the surrounding areas.
The community has already donated the land where it will be located, a total of 6,880 square meters, of which approximately 1,000 would go to the residence and 500 to the school.
To help us achieve this goal, we collaborating with an investigative group of the University of Alcala de Henares (Madrid) and the Institute of Cooperation and Basic Living Conditions (ICHAB) of the Polytechnic University of Madrid, who have designed a construction model that is efficient, cheap and resilient, based on modules, that will help us reach the different objectives according to the funds raised.
In addition, EINICIA CROWDFUNDING will donate their whole commission to the project.
Project Team
Board Members
Susan Cole - President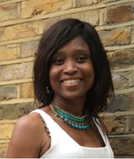 Susan Cole holds a Masters degree in Education from CEU San Pablo University, Madrid, and a Bachelor of Arts (Honours) degree in Languages and Linguistics (Birkbeck, University of London). She is a fully qualified TEFL teacher. Her experiences include stints with blue chip financial services firms in London and a multinational telecommunications company in Spain. She brings versatility from both the corporate and academic world and is very comfortable in a culturally-diverse environment, having lived in Africa, the United Kingdom and Spain. She is a founding member and was President of Mammy Yoko Association, a UK-based charity that focuses in helping women and children in Sierra Leone.
Abdul Karim Mansaray - Vice President

Abdul Karim Mansaray is a senior petroleum geoscientist working with Repsol Exploration in Madrid. He has over 15 years working experience, more than 10 years oil and gas exploration. He has authored/co-authored several scientific papers and received the award for best presentation in the Offshore West Africa Conference, 2014. He previously worked as Field Manager for "Feed the Children Int, Sierra Leone" where his role included field management and implementation of humanitarian projects. He also served in various senior voluntary positions (such as Deputy District Youth Director) in the Wesleyan Church of Sierra Leone. Abdul holds a BSc (Hon) in Geology (University of Sierra Leone), MSc in Geoscience (Herriot-Watt University) and MSc in International Management of Oil & Gas (University of Liverpool).
Idriss Fuad Bangura - Secretary

Idriss Fuad Bangura currently works for DHL and is president of their workers union. He is a humanitarian and activist and actively involved in helping the needy. He is also founding member and president of "Asociación Identidad Y Cultura Africana" (AICA) that works to bridge the gap between the different African cultures and the Spanish culture.
Kadiatu Mansaray - Treasurer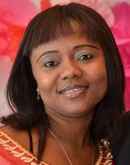 Kadiatu Mansaray is a qualified "English as a Foreign Language" teacher, currently working as a freelance giving classes in various multinational firms as well as language schools in Madrid. She is also a trained Nurse and holds a Diploma in Nursing (National School of Nursing SL) and an Advanced Diploma in HIV/AIDS Prevention (College of Veneral Disease, London). She previously worked as a State Enrolled Nurse in Sierra Leone and an HIV/AIDS counselor preparing HIV testing candidates for the results to be expected and counseling them on how to live "positively" once they test positive for HIV. She currently serves voluntarily as coordinator for one of the Sunday School classes in Immanuel Baptist Church, Madrid.
Nacho Otero de Irizar - Member at Large
Nacho Otero currently works as a Director for the Carlton Group (Real Estate Investment Bank) based in Madrid and he has more than 15 years of real estate and corporate finance experience in Spain, Portugal and other countries. Most recently, Nacho was Deputy Managing Director of a Spanish real estate listed company and he has previously worked for ING Real Estate, Deutsche Bank Investment Banking and Merrill Lynch, in Madrid and London.
Dr. Ignacio Otero Tejero - Member at Large
Dr Ignacio Otero Tejero is a Urological surgeon with more than 35 years experience. he is attached to the Urology Services department of the "Hospital General Universitario de Guadalajara" and an Associate Professor of Urology in the faculty of medicine at the University of Alcalá de Henares.
Finance
The proyect is designed to be implemented in several easily achievable phases depending on the amount of funds raised. This will enable us to build independent and functional modules as soon as possible.
If the project is implemented completely, the following objectives would be achieved:
Provide a home for 128 children, distributed in 8 modules; each module has the capacity to house 16 children.
Build a school for 280 children, distributed in 8 modules; each module can serve as classroom to educate 35 children.
Build 2 modules for administrative and common purposes.
The estimated cost to construct each module is 10.000€. Our aim is to build a total of 18 modules, therefore the approximate total cost of project is 180.000€.
Depending on the amount of money collected, the project can be divided into following phases:
Universidad Politécnica de Madrid
2016-03-31 15:37:11
---
Instituto de Cooperación en Habitabilidad Básica
2016-03-31 15:36:30